Lola Albright



Lola Albright was born July 20, 1925 in Akron, Ohio.
Her job as a switchboard operator at a a local radio station
led to on-air work in minor roles.
She also worked as a model before heading to Hollywood in 1947.




She began her 66-year career with an uncredited role in Unfinished Dance
which featured many who would also go on to long careers
—Danny Thomas, Cyd Charisse, Elinor Donahue, and Margaret O'Brian.




After Unfinished Dance, she found work as an MGM singing extra in The Pirate (1948), and Easter Parade (1948).



Lola worked throughout the 50's, guest starring in many television shows includeing seven appearances as Kay Michaels in the Bob Cummings Show.

In 1958, she landed the role of sultry Edie Hart on the detective series Peter Gunn.


They made the cover of TV Guide.

Her popularity as sultry, dusky-voiced nightclub singer Edie Hart
on TV's Peter Gunn 1958 series
inspired two record albums, Lola Wants You and Dreamsville.



Released 1957



Released 1959

Lola received critical acclaim for her performances in A Cold Wind in August (1961), Joy House (1964), and How I Spent My Summer Vacation (1967).



In A Cold Wind in August, she "stirs the libido as a very classy ex-stripper Iris Hartford, an intoxicating woman who seduces a naive and inexperienced working-class boy, Vito Pellegrino (Scott Marlowe) who falls deeply in love with her."




She also appeared five times on Burke's Law between 1963-1965.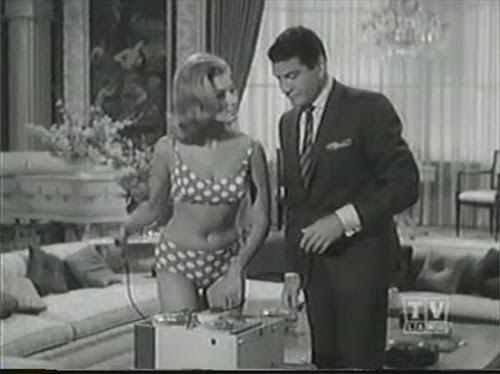 In her many screen appearances, she was often cast as a saloon girl or entertainer.



She won the "Best Actress" Award at the Berlin Film Festival in 1966 for Lord Love a Duck where she played Tuesday Weld's mother.



Lola appeared twice on Bonanza: once as Ann in The Search in 1965 where she and Adam search for Tom Burns...



...and then as Dolly Bantree in A Bride for Buford in 1967.


Dolly Bantree with Dan and Jack Elam in a Bride for Buford.


chey

Lola Albright married three times, though the name of her first husband remains obscure. Her second husband was Jack Carson. They co-starred in the movie, The Good Humor Man in 1950.



The were married from 1951 to 1958.



She married Bill Chadney, a jazz pianist, who played Emmet the piano player in Peter Gunn. The ceremony was held on May 20, 1961 at the Tropicana Hotel in Las Vegas; that marriage lasted until 1975. Bill opened three restaurants in the Los Angeles area. The Chadney's restaurants, which featured nightly live jazz and specialized in prime rib and steaks, were frequented by people from Hollywood. At the Burbank Chadney's, it was not unusual to see Johnny Carson, Bob Hope or Tom Brokaw hanging out with the denizens of the nearby NBC studios. Sounds like fun!

She retired in 1984 from acting,
but she appears to have returned in 2013 after a 30 year absence,
IMdb listed her as appearing as Kelly
in the television series, The Three Bits.
She would have been 88 years old in 2013.




Lola Albright spent her remaining years living in Toluca Lake, California.
In 2014, she fell and fractured her spine, an injury that contributed
to a general decline in her health over the next three years.

On March 23, 2017, Albright died at her home of natural causes at the age of 92.

A versatile and talented performer, she will be remembered.


Cold Wind in August promo