Laredo (NBC 1967-1969)
Neville Brand was the "name" star, in the role of Texas Ranger Sgt Reese Bennett. He has a connection to
Bonanza
via several guest roles, most notably Gunnar Borgstrom, Hoss's Uncle (Spoiler Alert: and the chief of a band of none-too-honest wanderers); he also played Pepper Shannon, and in a smaller role, Doyle.
An avid reader, Brand served in WW2, receiving a Silver Star for gallantry in action; other awards and decorations were the Purple Heart, the Good Conduct Medal, the American Defense Service Medal, the European-African-Middle Eastern Campaign Medal with three Battle Stars, one Overseas Service Bar, one Service Stripe and the Combat Infantryman Badge. In a 1966 interview he explained the Silver Star, stating that withering fire from German machine guns in a hunting lodge kept him and his unit pinned down. "I must have flipped my lid," he said. "I decided to go into that lodge." He was discharged from service in October 1945. The next year he worked on his first film project, for the US Army Signal Corps, along with Charlton Heston. He worked on many movies throughout a lengthy career, including John Wayne's
Cahill, US Marshal.

By Source, Fair use, https://en.wikipedia.org/w/index.php?curid=33507829
A full list of cast including regulars and guests can be found at:
http://www.hollywood.com/tv/laredo-59501139/credits/
.
Rangers Chad Smith (Peter Brown) and Joe Riley (William Smith) frequently teased their sergeant about his age (he was in his forties).
Captain Parmalee (Philip Carey) often had trouble with Ranger Bennett's somewhat unorthodox reporting style. "Died good. What does that mean?" "Well, Cap'n, he ... he hollered good."
Peter Brown had prior TV success in
The Lawman
. Ranger Chad Smith hailed from New Orleans originally, and was fond of games of chance. In the second season he often wore a blue cavalry-style shirt, as seen below right, in a photo with a fellow Ranger played by Robert Wolders.
He became involved with writing, directing and acting while stationed in Alaska with the 2nd infantry. He got his big break when, while working at a gas station, he met Jack Warner, who invited him the next day for a screen test. He became a contract player for Warner Brothers Studios. "The Fastest Gun in Hollywood," his biography, gets its title from his championship in an early 1960s magazine-sponsored contest. With TV-western mania at its peak, one American magazine sponsored a contest for actors who portrayed western heroes and villains, who needed the quick-draw skill for the climactic scenes in so many such shows. The magazine held a competiton among some of the stars, firing blanks, aiming not at each other but downrange, and using an electronic timer. Quite a number of cowboy stars showed up to "slap leather." Brown beat them all and won the title of the fastest gun in Hollywood. For the series Laredo, Peter Brown used his real-life horse, Amigo (1965).
Philip Carey (not unlike Bonanza's David Canary) had a long career in soap opera after the show finished its run.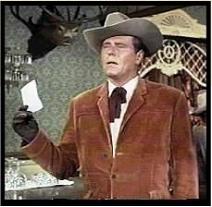 He served in the United States Marine Corps, was wounded as part of the ship's detachment of the USS Franklin during World War II, and served again in the Korean War. After
Laredo
, Carey guest-starred in an episode of ABC's military-western Custer starring Wayne Maunder in the title role. Carey had played Custer himself in
The Great Sioux Massacre
(1965) and played Captain Myles Keogh at the Battle of the Little Big Horn in Walt Disney's
Tonka
in 1959. From 1979 until late 2007, he played the protective Texan patriarch Asa Buchanan on the ABC soap opera,
One Life to Live
.
William Smith played the shy giant, Ranger Joe Riley, who joined up for protection from a sheriff -- his previous work had been as a gunfighter. The actor is a lifelong bodybuilder; he wasthe final Marlboro Man before cigarette advertising was discontinued on television.
Smith served in the United States Air Force, where he won the 200 pound arm-wrestling championship of the world multiple times as well as the United States Air Force weightlifting championship. Smith is a record holder for reverse-curling his own bodyweight. His trademark arms measured 18½ inches. Smith held a 31-1 record as an amateur boxer and studied martial arts with kenpo instructor Ed Parker for several years. He also played semi-pro football in Germany and competed in motocross and downhill skiing events. One of his earliest leading roles was as Joe Riley, a Texas Ranger on the NBC western series Laredo (1965–1967). Smith's character was good-natured with muscles of steel. In 1967, Smith guest starred as Jude Bonner on James Arness's long-lived western
Gunsmoke
. Smith was cast as John Richard Parker, brother of Cynthia Ann Parker, both taken hostage in Texas by the Comanche, in the 1969 episode "The Understanding" of the syndicated television series
Death Valley Days
, which was hosted by Robert Taylor.
The cast varied in the second season with Claude Akins having a recurring role. Robert Wolders also appeared in the later episodes.