Date: October 17, 1959
Summary: Joe is attracted to French saloon owner Julia Bulette. Ben is not pleased with their relationship due to the fact of her past and their age difference. Ben asks Julia to stop seeing Joe. At first she agrees, but later changes her mind. Julia offers her saloon to help care for the sick after a scarlet fever epidemic breaks out. Shortly afterwards, Julia is robbed and stabbed.
Written by: Al Ward
Directed by: Christian Nyby
Guest Stars: Jane Greer (Julia Bulette); Alexander Scourby (John Millain); Victor Sen Yung (Hop Sing); Harry Seymour (Piano Player); Robert J. Stevenson (George Romley); Kem Dibbs (Sheriff Olins); Roy Engel, Kay Kuter, Mary Munday, Rush Williams, Robert B. Williams.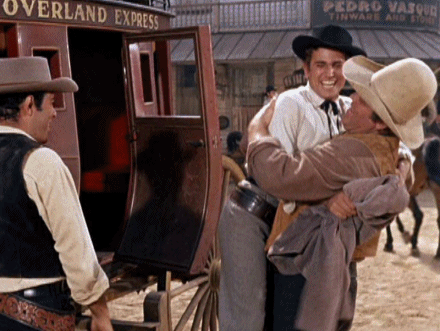 Slideshow gif image by Bejules