Marlyn Mason



Marlyn Mason was born on August 7, 1940, in San Fernando, California.
She began her long career with a performance of the song "Santa Claus Is Coming In Town" at her local church.




In her own words, Marlyn remembers, "My career was born the same day Diane Sawyer popped into the world, Dec 22, 1945. It was Saturday and my Mum was no doubt listening to me rehearse the lyrics to Santa Claus is Coming to Town. The little church we attended was having its annual Christmas program and I was to sing the Coots/Gillespie holiday song (recorded for the first time in 1934).




Truthfully, all I remember is the applause and thinking with my 5 year old brain that that's where I wanted to be, in front of people, showing off and belting my heart out."



Marilyn with her baton.

"With my parents support (as long as I practiced) I sang my way thru my developing years at civic functions, contests, jubilees, church socials, you name it, winding up in 1949 on the Doye O'Dell Show. I was 9. My payment was a small bucket of popped corn which I shared with my classmates the next day."



Annie Oakley

While still in her early teens, she was cast in several stage shows with the Players' Ring Theatre troupe in Hollywood, appearing in musical versions of "Tom Sawyer" and "Heidi," as well as "Pick Up Girl" and "The Crucible". In 1956, the 16-year-old Marlyn moved into TV work with multiple episodes of "Matinee Theatre".



Marilyn on her prom night

With her big blue-green eyes and button nose, she was an unconventional beauty who had the talent to play comedy and drama to good effect. Film producers ignored her throughout most of the swinging '60s, but Mason became a mainstay on television.



Joe and Tessa ~ Bullet for a Bride (Feb 1964)



Hoss and Amanda ~ Ponderosa Birdman (Feb 1965)

She was particularly busy in the mid-to-late 1960s, playing the recurring role of Sally Welden on TV's Ben Casey and guesting on a variety of programs. Her other television credits include My Three Sons, Father Knows Best, Gomer Pyle, Occasional Wife, Burke's Law, Ben Casey, Dr. Kildare, Perry Mason, Man from U.N.C.L.E, Hogan's Heros, I Spy Mission Impossibleand, of course, Bonanza.



Marlyn as Susan Caraway with Robert Vaughn as Napoleon Solo
in Mission Impossible (1965 ~ Fiddlesticks Affair)



I Spy and Marilyn as Vicky with Robert Culp and Bill Cosby (1965)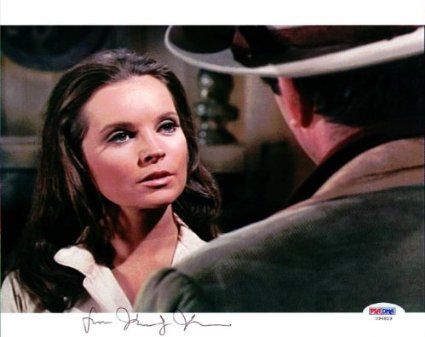 The Big Valley (1967)


Marlyn's early singing lessons paid off later when she was signed to co-star with Robert Goulet, Sally Ann Howes, and Peter Falk in a special TV-musical version of Brigadoon (1966).




Following that she landed the role of Carrie in Carousel (1967) this time with Robert Goulet and Pernell Roberts. This led to her casting in the George Abbott Broadway musical production of "How Now, Dow Jones," which starred Tony Roberts and Brenda Vaccaro. Though it was only moderately received when it opened in December of 1967 (it lasted 220 performances), Marlyn herself walked away with enthusiastic reviews.



Marlyn and Elvis

In 1969, she nabbed her best known cinematic part as Elvis Presley's girl in one of his final films. While shooting The Trouble with Girls, she was given the opportunity to share a duet with the legend on the novelty song "Sign of the Zodiac".

[youtube]9V7PQaqsLnw[/youtube]

Marilyn is one of only four women to ever record with Elvis Presley. Want to guess who the other three were? Answer is below!



The early 1970s brought Marlyn a regular role in the critically acclaimed series "Longstreet" (1972), as Nikki Bell, a love interest to James Franciscus' girl friend. She appears in 23 episodes.




She earned her first grandmother role on the TV movie "Fifteen and Pregnant" (1998) and, most recently, has been seen in a few short films in which she worked in front and behind the camera as actress and writer/producer "Model Rules", "Big" and "The Bag".



Model Rules (2008)

Marlyn was briefly married from 1960 to 1962 to composer/conductor musical director J. Raymond Henderson.
She is currently married to Hollywood makeup artist Lee Harman.
They were wed in August of 1972.

She gets more beautiful as she ages!
The other three women who have recorded duets with Elvis are
Ann-Margret, Nancy Sinatra and Shelley Fabares.
Did you guess?
[/color]
Information taken from the following sources:
IMDB
http://www.imdb.com/name/nm0556848/bio? ... _ov_bio_sm
'
Marlyn Mason's Website
http://www.marlynmason.com/My-Work.html