Jeanette Nolan


Born December 30th, 1911, in Los Angeles, California.



Miss Nolan began her acting career in the Pasedena Community Playhouse. While attending Los Angeles City College in 1932, she made her radio debut in "Omar Khayyam."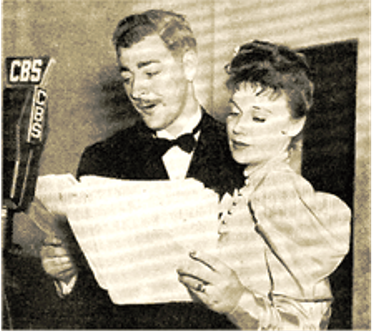 In 1935, Jeanette married John McIntire and the two remained married until his death in 1991.






In the 1930's, long before Montana became a popular hideaway for show business stars, the couple maintained a log cabin in the Rockies just three miles from the Canadian border and fourteen miles from the nearest mail drop. There, they watched the stars through a skylight in the roof, fished for trout off the back porch, bagged an occasional bear or deer for food, trapped beavers (whose fur became a coat for Miss Nolan) and weathered temperatures of 55 below zero. She baked her own bread, churned her butter and in one year, she said, put up 500 quarts of vegetables, fruit and venison.



Her film debut came in 1948 when she played Lady Macbeth opposite Orson Welles in "Macbeth."





Jeanette appeared in more than 300 television shows and movies, including "The Adventures of Ozzie and Harriet" (1953), "The Loretta Young Show" (1954), "You Are There" (1955, as Sarah Bernhardt), "Tales Of Wells Fargo" (1958), and "Black Saddle" (1959).



1957 – Jeanette's talents never end as she plays Nante in "The Halliday Brand"





In 1959, Jeanette landed the role of Annette Deveraux (on left) in the series, "Hotel de Paree", also starring Earl Holliman.





Jeanette also appeared in "The Man Who Shot Liberty Valance" in 1962, starring with Andy Devine, John Wayne, Vera Miles, and James Stewart.





Alfred Hitchcock's "La Strega" in 1962





Jeanette's talent for bringing characters to life kept her working steadily with appearances on "Wanted Dead or Alive," "The Real McCoys," "Have Gun Will Travel," "Laramie," and "Ben Casey."



She made eight appearances on the show from 1957-1972. Here she is in 1961 as Festus' (Ken Curtis) Aunt Thede.





1960 – Jeanette Nolan has the rather curious distinction of having provided a series of screams for "mother" in "Psycho" in which, coincidentally, her real-life husband (John McIntire) played Sheriff Chambers.



Jeanette was a regular on "The Richard Boone Show" from 1963-1964, starring in 25 episodes in various roles alongside the top stars of the day.



In 1966, Jeanette starred as Annie Connors on Bonanza in season 8's "Old Charlie," alongside her real-life husband, John McIntire (Charlie Connors) and their son, Tim (George and Billy Barker). Here's a look at the fight scene between Annie and Billy – real-life mother and son!





"The Virginian"
Jeanette first guest starred on "The Virginian" in 1963 as Helen Dyer in "The Mountain of the Sun." Then, from 1967-1970, she played Holly Grainger opposite her real-life husband, John McIntire (Clay Grainger) as owners of Shiloh Ranch.





And in 1971 as Sally Fergus on "Gunsmoke" spin-off, "Dirty Sally"(with Dack Rambo).





Here she is on Alias Smith and Jones in 1971.





In 1981, Jeanette was the voice of Widow Tweed in "The Fox and The Hound."



She appeared on "Fantasy Island," "Night Court," "MacGyver," "The Golden Girls," "Hart to Hart," and "Trapper John, MD."



Here's Jeanette opposite Peter Faulk in 1978 on "Columbo."





In 1983, Jeanette starred with husband John McIntire on "Quincy."





And again, in 1984, opposite her husband, John McIntire, in "Cloak and Dagger."





1998 - Jeanette's final film role was as Tom Booker's (Robert Redford's) mother "Ellen Booker" in "The Horse Whisperer."





Jeanette received four Emmy nominations in her career:

1964 - Outstanding Single Performance by an Actress in a Leading Role - The Richard Boone Show

1966 - Outstanding Performance by an Actress in a Supporting Role in a Single Role – "I Spy"

1974 - Best Lead Actress in a Drama "Gunsmoke" as Dirty Sally

1978 - Outstanding Single Performance by a Supporting Actress in "The Awakening Land"



Jeanette and husband John McIntire had two children.
Tim McIntire (1944-1986) was an actor, and Holly McIntire (1946-) is also an actor, married since 1969 to Charles Wright, who was named Poet Laureate of the United States in 2014.






Jeanette Nolan passed away on June 5th, 1998, at the age of 86 at Cedars-Sinai Medical Center following a stroke.