Jeanne Cooper ~ American Actress


1928 - 2013

Wilma Jeanne Cooper was born in Taft, CA on October 25, 1928, to Albert Troy Cooper, and Sildeth Evelyn Moore. Jeanne was the youngest of three siblings. The family lived in Kern County for several years, first in Taft and then moving to Bakersfield in 1942.




Her 60 year career began in the early 1950s when she appeared Her first film role was as Myra in the 1953 western film, The Redhead from Wyoming. She continued her career as a supporting player in films with well-known stars Maureen O'Hara, Glenn Ford, Tony Curtis, and Henry Fonda. Jeanne moved into television in 1953 in the series The Adventures of Kit Carson and went onto to play in 133 television episodes from 1953's to 1973's. These series included well-known favorites Zane Grey Theatre, Twilight Zone, Maverick, Cheyenne, Have Gun Will Travel, Rawhide, Wagon Train, Ben Casey, and Perry Mason.



Twilight Zone ~ 1959

Boomers may remember her best in her Bonanza roles.



Ameilia Miller ~ She Walks in Beauty (1963)



Abigail Hinton ~ The Good Samaritan (1962)

Cooper is also well known for her 40-year role as Katherine Chancellor on the daytime soap opera The Young and the Restless. Her character broke ground in daytime television as her character has struggle with alcoholism, stroke, turbulent relationships, and the loss of a child.



Jeanne Cooper ~ Katherine Chancellor

A talented actress, Cooper earned her first Emmy nomination for her performance in Ben Casey in 1962, and her Young and Restless performances were later recognized as excellent by ten Daytime Emmy nominations.




In 2008 she won the Daytime Emmy Award for Outstanding Lead Actress in a Drama Series. She received a Lifetime Achievement Award from the Daytime Emmys in 2004. For her contributions to television, Cooper received a star on the Hollywood Walk of Fame.



Jeanne Cooper ~ Perry Mason

Jeanne married to television producer Harry Bernsen, Jr., and they were together for 23 years before divorcing. The Bernsens had three children, all of whom are actors: Corbin Bernsen of L.A. Law fame, Collin Bernsen, and Caren Bernsen.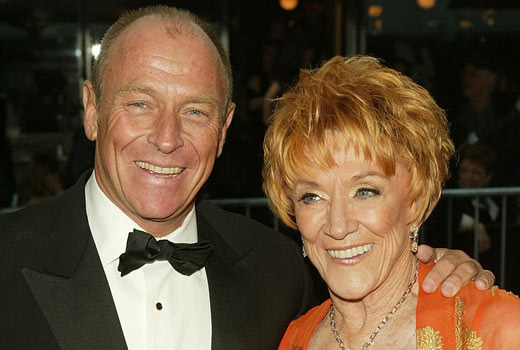 Jeanne Cooper with her son, Corbin Bernsen

In 2013, Cooper became ill due to an infection. She died on May 8, 2013 in a Los Angeles hospital at the age of 84. Her last episode of Young and Restless was aired five days before she died.