Buck - A Horse Bio
"Buckskins Are Better!"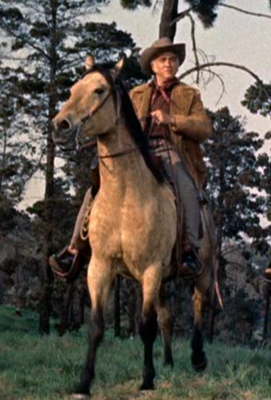 Buck and Ben / A Rose for Lotta
With the arrival of the color television came the need for a new kind of western - Bonanza. The four Cartwright men were going to be bigger than life and colorful on the screen so it was decided that their horses must be too. When it came time to go down to the Fat Jones Stables to select their horses, Lorne Greene selected a thoroughbred Buckskin for Ben Cartwright. Buck's beautiful color, smooth gaits and gentle temperament made him the ideal television mount for the Ponderosa patriarch.
What is a Buckskin?

According to the International Buckskin Horse Association a true buckskin should be the color of tanned deerhide with black points. Shades of the horse may vary from yellow to dark gold and points (mane, tail, legs) can be dark brown or black. A buckskin is clean of any smuttiness and guard hairs which are buckskin colored grow through the body coat up over the base of the mane and tail.

Modern Cowboy Riding a Buckskin on a Wyoming Ranch

Buck has Skills.

As a ranch horse Buck is well-suited to the intricate and speedy maneuvers required in reining, cutting, calf roping, and other tasks involving live stock. He has been long known for endurance, stamina, versatility, disposition and his beautiful color. Ben once said that he didn't hold to having a horse on the ranch that couldn't work stock and his choice of the Buckskin proved that he meant what he said.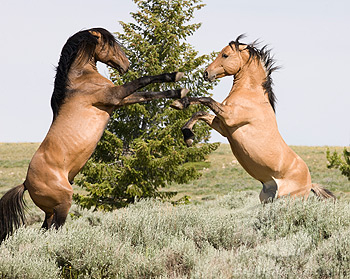 Buckskins are Strong!

In the American west, horses of the Buckskin (along with the Dun, Red Dun and Grulla) hue trace to the Mustang - Spanish Barb descendants which originated in Spain as the Sorraia. Other Buckskins brought to this country can be traced to the Norwegian Dun, descendants of the nearly extinct Tarpan horses. Many breeders believe that these Norweigian Duns can also be traced back to Spanish origins. The Buckskin horses found today are the strongest living descendants of the ancestral breeds. Along with a mixture of other bloods, the buckskin color can be found in all breed types and is the sign of superior genetics, strength and stamina. As Lorne Greene found out, Buck was very fast.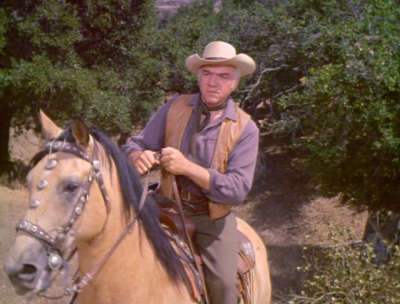 The Legacy / Thank you Gillie
Like many screen cowboys, Lorne Greene rode more than one horse during the course of the show but some of his most memorable moments happened with a handsome horse named Dunny Waggoner. The horse was twelve years old, stood 15.1 hands and weighed 1,100 pounds. A Buckskin is strong and true, but can also be a handful for an inexperienced rider. Lorne recalls:

"I went out to the Fat Jones Stables and they asked me if I could ride. I answered, 'Yup'. I mean that's a good western reply. After all I was a Toronto radio man and a Broadway actor."

Lorne climbed on Dunny who immediately took off running. Lorne enjoyed the ride until he realized that they were heading for a fence at high speed.

"I didn't know what to do, so I pulled the reins to the left and Dunny made a right angle turn. His move was so fast I also made a right angle turn in the other direction hanging on to the saddle horn with one hand."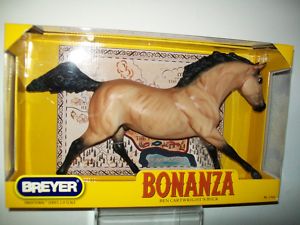 Breyer Collectible of Buck



Just like the actors, the horses of Bonanza have their own following fans. Many versions of Buck have been placed on the market along with action figures of Sport, Chub and Cochise. According to a popular magazine in print at the time of airing, those horses even got fan mail. Once you consider that they rubbed hackles with some of the biggest stars around, it was no wonder that those horses were considered stars on their own right.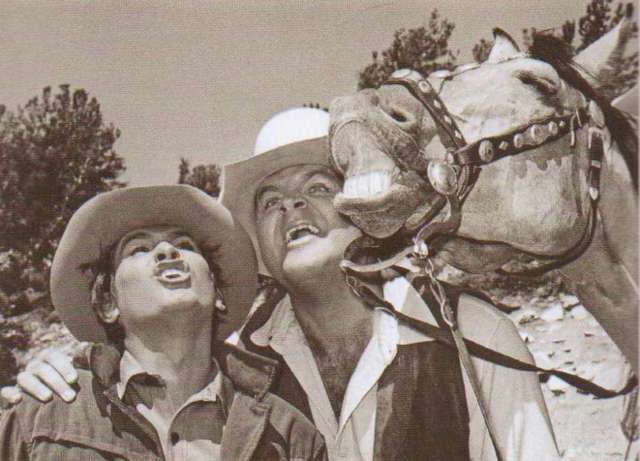 Thank you chey
Buck liked to horse around with the other actors on the set.

Buck and Lorne on The Dean Martin Show



He even took the time to do guest appearances with Lorne in parades, rodeos and on other television shows. Buck was at his best with his partner where ever they were.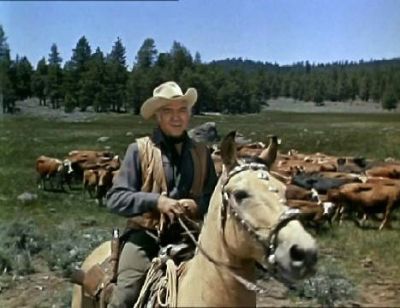 The First Born / Thank you Bejules
Lorne Greene was reputed not to have any great love for his horse, but that doesn't really fit with the man who was known for his kindness, generosity and devotion to environmental causes. Perhaps he just didn't like spending so many hours a day in the saddle. Ben Cartwright was known to have ridden at least one gelding, Dunny Waggoner and a mare named Shenandoah. At the age of 34, the 5-foot-high tan Arabian mare left her life as a television star and began carrying disabled children at the Fran Joswick Therapeutic Riding Center.

"It is our understanding that Greene used two horses on the series and that Shenny was used primarily for close-ups," Cheryl Schou, the center's director said. "She has a very attractive head, even at this age."

While many horses and riders have passed through time, not all are as memorable as Buck and Ben.
http://www.emmytvlegends.org/interviews ... /john-rich
#
http://articles.latimes.com/1991-03-19/ ... -capistran
http://www.americanbuckskin.org/
TV people mag. Page,65 'Bonanza's Four Footed Stars'
Buck Bio By Calamity