Search found 57 matches
by Drifter

Thu Jun 13, 2019 7:14 pm
Forum: Introduce Yourself
Topic: New Kid on the Hitching Post
Replies: 28
Views: 1669

and

. You'll find

is quite popular on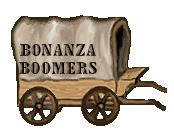 !
by Drifter

Thu Jun 13, 2019 3:50 pm
Forum: Introduce Yourself
Topic: Better late than never
Replies: 20
Views: 1548

You're always

by Drifter

Fri Jun 07, 2019 8:18 pm
Forum: Season 9
Topic: Episode 271 - SENSE OF DUTY
Replies: 9
Views: 2725
Well I see Ben found his old uniform, although I didn't realize he had one in the first place...but meanwhile who's running the Ponderosa? I figured Candy could've just stumbled into Virginia City one day, but they wanted someone who was clever, slick and likable. Besides they wanted to demonstrate ...
by Drifter

Sat Jun 01, 2019 9:26 pm
Forum: Season 4
Replies: 4
Views: 2513
There are some nice aspects of this episode, but apart from the War, it's another Joe wants to marry the first girl he sees and loves her "more than anything in the world." Right, Joe, because you haven't said something similar before (and won't say again). Still it was a nod to history by touching ...
by Drifter

Sat Jun 01, 2019 9:10 pm
Forum: Season 1
Topic: Episode 18 - A HOUSE DIVIDED
Replies: 11
Views: 3740
i didn't quite understand why Kyle sought Little Joe and how he knew of him. I can assume he had a relationship with his mother before she met Ben, but how did he know she had a son so many years later? I also don't quite know why he needed Joe. Kyle was able to do business in other cities by himsel...
by Drifter

Sun May 26, 2019 7:47 am
Forum: Season 3
Replies: 14
Views: 4457
Out of all the Bonanza episodes. This is the first episode I can recall the most vividly. Let's see if I can recall it from an 11/12 year old perspective: Cartwrights have company over including a pretty girl. Joe likes girl. Girl likes Adam instead. Sounds simple, except discovered I was putting my...
by Drifter

Fri May 24, 2019 9:27 am
Forum: Season 1
Replies: 19
Views: 5504
I have to admit it was cute seeing the brothers scheme to break set things straight with Adah and their Pa—these boys, er men, did NOT want her as a stepmom!
by Drifter

Sun May 19, 2019 10:22 pm
Forum: Season 2
Replies: 8
Views: 3138
Ok, I rewatched this episode and I see I'm not the only one who thought Mariette's relationship with Adam a bit strange. I can understand her appreciation for helping her husband but that was enough to make most husbands jealous—not that Adam really needed to have that problem (yet again)! I can't h...
by Drifter

Sun May 19, 2019 8:03 pm
Forum: Season 5
Replies: 26
Views: 5458
So, if you've read about what goes on between the acceptance of a script and the shooting, you'll know that changes keep happening right up until yesterday's "dailies" run. I'm pretty sure that had some influence on the changing nature of Laura's behavior / 'beliefs'. Various of TPTB wanted to show...
by Drifter

Thu May 16, 2019 4:33 pm
Forum: Season 5
Replies: 26
Views: 5458
Ok, not a favorite of mine, but it's really not Laura's fault. I'll say this much: I don't think Laura was a bad person; I just didn't see her as a potential love interest for someone like Adam. Maybe I'd feel different if she was smarter and more independent, but I don't see any good reason for Ada...