Search found 52 matches
by Drifter

Tue Jul 16, 2019 4:19 pm
Forum: Introduce Yourself
Topic: Hello from Germany!
Replies: 18
Views: 66
Hello and

to the

by Drifter

Thu Jul 11, 2019 5:20 pm
Forum: Season 1
Topic: Episode 1 - A ROSE FOR LOTTA
Replies: 43
Views: 9506
Ok, probably not the most memorable episode, but everything has a start somewhere! Personally I didn't particularly mind the Adam/Joe fight if it was liken to a flashback of their younger years. They were definitely very clannish...Ben is too loud angry...Adam is harsh, and too "tough guy"... Hoss c...
by Drifter

Sun Jul 07, 2019 8:06 pm
Forum: Introduce Yourself
Topic: Hi from Littlejoesgal0
Replies: 18
Views: 81

Littlejoesgal0!
by Drifter

Thu Jul 04, 2019 3:58 pm
Forum: Season 6
Replies: 23
Views: 4510
I am with you on this. I loved that Adam was all alone in the house. This episode was all Adam, all day. The doctor seemed to have been nothing more than the bad guy's tool. Just what did Adam have on under his robe? Hmm??? Of course you don't mind him being alone in that house because I can imagin...
by Drifter

Mon Jun 17, 2019 4:13 pm
Forum: Season 4
Replies: 8
Views: 1660
This is an interesting episode. There isn't too much of a plot, but there are good scenes. One of my favorite parts is when Adam gives the young man a talking to while stopping him with one hand. He has also no trouble captivating his audience by using a table as his stage. Ultimately, Adam is able ...
by Drifter

Thu Jun 13, 2019 7:14 pm
Forum: Introduce Yourself
Topic: New Kid on the Hitching Post
Replies: 27
Views: 347

and

. You'll find

is quite popular on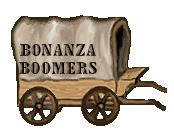 !
by Drifter

Thu Jun 13, 2019 3:50 pm
Forum: Introduce Yourself
Topic: Better late than never
Replies: 20
Views: 341

You're always

by Drifter

Fri Jun 07, 2019 8:18 pm
Forum: Season 9
Topic: Episode 271 - SENSE OF DUTY
Replies: 9
Views: 2055
Well I see Ben found his old uniform, although I didn't realize he had one in the first place...but meanwhile who's running the Ponderosa? I figured Candy could've just stumbled into Virginia City one day, but they wanted someone who was clever, slick and likable. Besides they wanted to demonstrate ...
by Drifter

Sat Jun 01, 2019 9:26 pm
Forum: Season 4
Replies: 4
Views: 2076
There are some nice aspects of this episode, but apart from the War, it's another Joe wants to marry the first girl he sees and loves her "more than anything in the world." Right, Joe, because you haven't said something similar before (and won't say again). Still it was a nod to history by touching ...
by Drifter

Sat Jun 01, 2019 9:10 pm
Forum: Season 1
Topic: Episode 18 - A HOUSE DIVIDED
Replies: 11
Views: 2863
i didn't quite understand why Kyle sought Little Joe and how he knew of him. I can assume he had a relationship with his mother before she met Ben, but how did he know she had a son so many years later? I also don't quite know why he needed Joe. Kyle was able to do business in other cities by himsel...