Search found 318 matches
by dougsgirl

Sat Sep 26, 2020 10:56 pm
Forum: Season 4
Replies: 7
Views: 4423
I watched this tonight. That Thunder Man sure was a strange one.
by dougsgirl

Fri Sep 25, 2020 12:35 am
Forum: Introduce Yourself
Topic: Hi, I'm back! :)
Replies: 18
Views: 144
It's great to have you back, Sacha or Nicky..

by dougsgirl

Fri Sep 18, 2020 12:11 am
Forum: Season 4
Replies: 25
Views: 8849
I just watched this tonight. I can't believe a dr. would sort of encourage "strangers" to take Hoss away from his father. What if Ben would have found him on a ride all alone, he would have taken him home.
Glad Mr. Vandervort tried to make his wife see what she was doing to Ben.
by dougsgirl

Sat Sep 12, 2020 11:52 pm
Forum: Season 4
Replies: 25
Views: 9057
I believe the item in question was a match, not a toothpick. http://ziacom.net/misc/WayStation064%20%28match%29.jpg And don't forget one of my favorite scene from this wonderful episode -- the spoon trick! I was waiting to see if anyone would mention that and if not I was going to. You beat me to t...
by dougsgirl

Mon Sep 07, 2020 12:22 am
Forum: Season 5
Replies: 59
Views: 20085
I still don't know what attracted Hoss to Ragan.
by dougsgirl

Tue Sep 01, 2020 10:39 pm
Forum: Introduce Yourself
Topic: Hello from Somedayman
Replies: 19
Views: 516

Somedayman and

to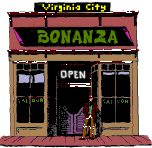 by dougsgirl

Thu Aug 20, 2020 7:28 pm
Forum: Season 3
Replies: 5
Views: 4419
Ben didn't actually invite them, that was Joe's doing.

I liked this episode, except for a few little things. Trudy told Paul she would be back and when he came to check on her she acted like that never happened.

I love the way Trudy stands up for herself and Paul when Stephanie was criticizing him.
by dougsgirl

Mon Aug 17, 2020 2:00 pm
Forum: Season 3
Replies: 7
Views: 4975
I loved this ep for many reasons. Peggy really was "wise" beyond her years as the reverend said.
I loved the way Sue cried saying Kenny needs me.
I also loved Adam getting her cape on bonnet on her, he would have been a great dad with a daughter.
by dougsgirl

Sun Aug 16, 2020 7:46 am
Forum: Season 3
Topic: Episode 95 - INGER, MY LOVE
Replies: 9
Views: 4231
I was just watching this last night and was thinking how Inger was my favorite of all his wives. I really enjoyed that little Adam really liked her.