My Life Story
by Cochise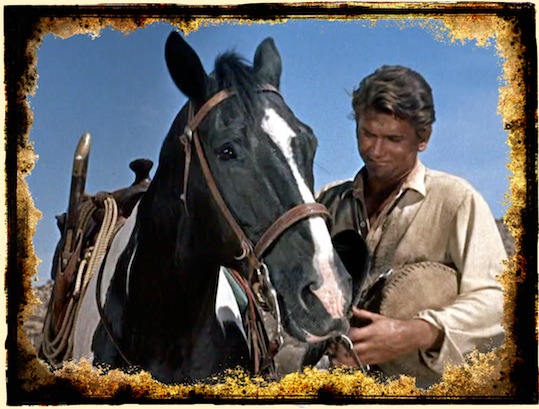 Thanks for the artwork and cap, Gillie!
Me and my best friend Joe!
Hi! My name is Cochise. My friend Joe calls me "Cooch!" But I'm getting ahead of myself, here! It's a pleasure to meet you! I'd like to tell you all about myself! You would call me a "paint". I am black and white, like many-but not all-of my kind.

Just so we can get better acquainted, let me tell you what one of my human friends at Wikipedia has to say about us "American Paints!"*Nods head*

American Paint Horse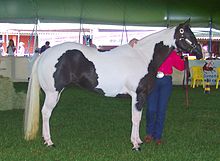 American Paint Horse
Distinguishing features: Broad pinto spotting patterns of white and dark hair
Alternative names: Paint
Country of origin: United States
Common nicknames: Paint
Breed standards:
APHA Breed standards
Horse: (Equus ferus caballus)

The American Paint Horse is a breed of horse that combines both the conformational characteristics of a western stock horse with a pinto spotting pattern of white and dark coat colors. Developed from a base of spotted horses with Quarter Horse and Thoroughbred bloodlines, the American Paint Horse Association (APHA) breed registry is now one of the fastest-growing in North America. The registry allows some non-spotted animals to be registered as "Solid Paint Bred ," and considers the American Paint Horse to be a horse breed with distinct characteristics, not merely a color breed.

I'll get out my family album, a little later, and show you some pictures of my paint cousins!*Winks*

I have a lot of fans, more than I would ever have thought possible that day when a young actor named Michael Landon first came to visit me and my stablemates at Fat Jones Stables in North Hollywood, California.

Here is a little display of memorabilia that reminds me of home:


Items Belonging to the Estate of the Last Manager of the "Fat Jones Stables"
(From Joe'sGal's Collection)
It was our stable that owned and rented all the horses and wagons (rolling stock) you see in the Western movies and TV shows, filmed between 1912 and 1975. Many people thought that the actors owned us horses, but "Fat Jones" retained ownership of us and trained us. We continued to be stabled here at home. Once in awhile though, one of the famous movie actors would buy "their" horses after filming had ended. Would you believe that Lorne Green bought Buck and donated him to a therapeutic facility for challenged children! I wasn't so lucky, but I'll save that for later.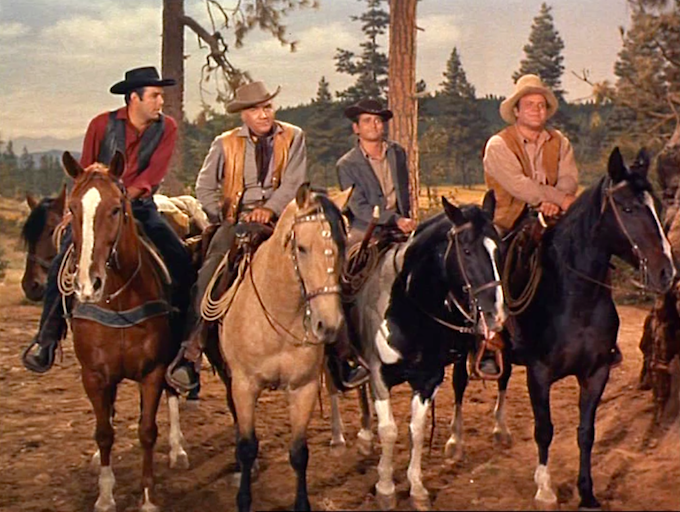 Thanks, Gillie!
Me and my Stablemates, with the Human Bonanza Cast Members
This sure takes me back, my friends... You see, it was just before the start of a new television series, to be called Bonanza. The people in charge had certain kinds of horses in mind for their four main characters. They were in part, looking for horses that would look good on footage, filmed in color. They sent a young actor named Michael Landon over to our place to try a few of us out, to see which one suited him best.
Thanks, heartbeatgirl!
Meet my soon-to-be friend, Mike! The newspapers called him a "heartthrob!"

Little did I know the adventures that awaited me... I'm sure glad he picked me!

When I first "auditioned" for Mike, my name was Tomahawk. Doesn't that sound funny, now? I have become so used to my character's name, Cochise! (He was named after the famous Indian chief.) At the time, I was twelve years old, stood 15.3 hands high and weighed in at 1,150 pounds. I was what you might call "a good bit of horseflesh!"*Snorts*My stablemate, Chubby weighed more than I. He was picked for the series too, by a very nice man, an actor named Dan Blocker. Chubby and I were to become great pals in the next few years. They worked us hard, and we had fun!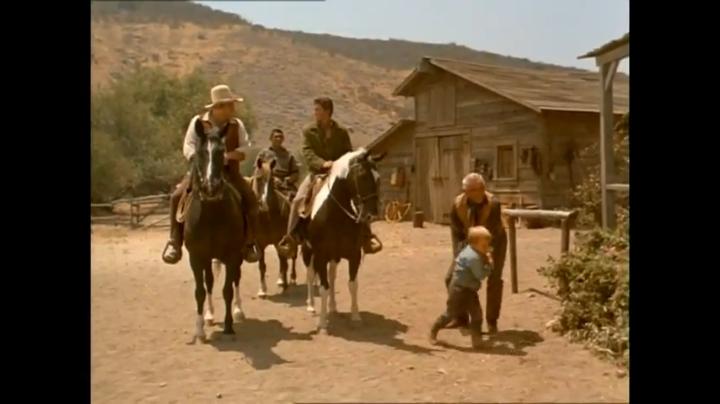 Thanks, ansinico
Me and my Buddy, Chub in "All Ye His Saints".
On the show, different horses were required for different types of work. In the first few seasons, riding paints were used for the most part, which appear in the close-up scenes with Mike. The riding paints were used for the simple shots at Paramount Studios and for the outdoor shots, in Southern California. But starting with Season 7, more and more location shooting was done, so more and more stunt double paints were needed. (One of the venues that you might remember was Lake Tahoe.) Sometimes a bigger and stronger paint was required for heavier duty, like during the filming of "Bushwacked," in Patagonia, Arizona. A larger horse was needed to pull the travois, carrying Mike.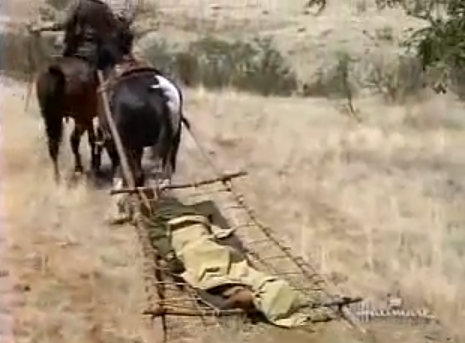 Thanks, Gillie!
Stunt Horse Pulling Mike, "Bushwacked," Season 13
All in all, thirteen paints were used to represent me in the series. You can tell us apart by the ratio and patterns of white versus black, on our bodies. *Rears head* Sometimes the Makeup Department tried to put makeup one of the stunt doubles to make him more closely resemble the riding paint used in the episode. That didn't always turn out well!*Horselaugh*

Now, I don't mean to toot my own horn, but there is even a collectible Breyer's model of me! (Wow! I couldn't get over that one!) It can cost anywhere from $44.95 to $138.95. Although the other horses are widely available, mine is hard to find! I guess that means I'm pretty popular! *Nods head*
"Cochise", from the Breyer Horse Collection
(From Joe'sGal's Collection)
My human castmates and I are even on a lunchbox! Can you believe that? Prices vary, depending on the condition of the box. This one is worth $59.00!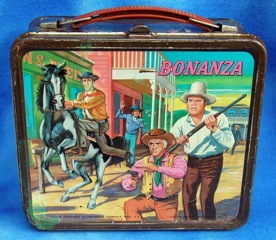 Vintage "Bonanza" Metal Lunchbox - Aladdin - 1960's NBC
From Joe'sGal's Collection
Would you believe that Joe and I were featured on the front cover of "Bonanza Gold Magazine?" That was sure an honor!
*Neighs*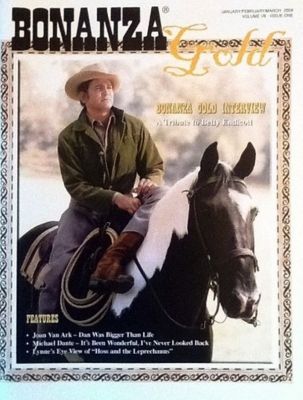 Jan/Feb/March 2009 issue of "Bonanza Gold Magazine"
Thanks, heartbeatgirl!
Well, this is something I don't like to talk about much, but I need to tell you what happened. In October of 1964, some people broke into our home, while we horses (and our human friends) were sleeping. Several of us were savagely stabbed. (And they call us animals!) *Snorts* Although every effort was made to save us, sadly, some of us had to be put down. Mike put up a sizable reward, but the perpetrator was never found. *Shakes head* We were about to go into production, for the new season. Another paint, who had worked as my stunt double on the show was rented for Mike. His took over as "Cochise" in "The Far, Far Better Thing." He did double-duty, being ridden by both Mike and stuntman Hal Burton. His last appearance was in the final episode of season twelve, "An Earthquake Called Callahan," in January of 1971. He was sold after that, and other horses filled my horseshoes (six, in all,) in the last three seasons.

Special Thanks to my Human Friends:

-Your friend,
Cochise

Trivia "from the horse's mouth": Did you know that the names of the other three original horses chosen at the beginning of the season of the show's run were: Dunny Waggoner, Slippers and Streak?
Cochise Biography by Joe'sGal